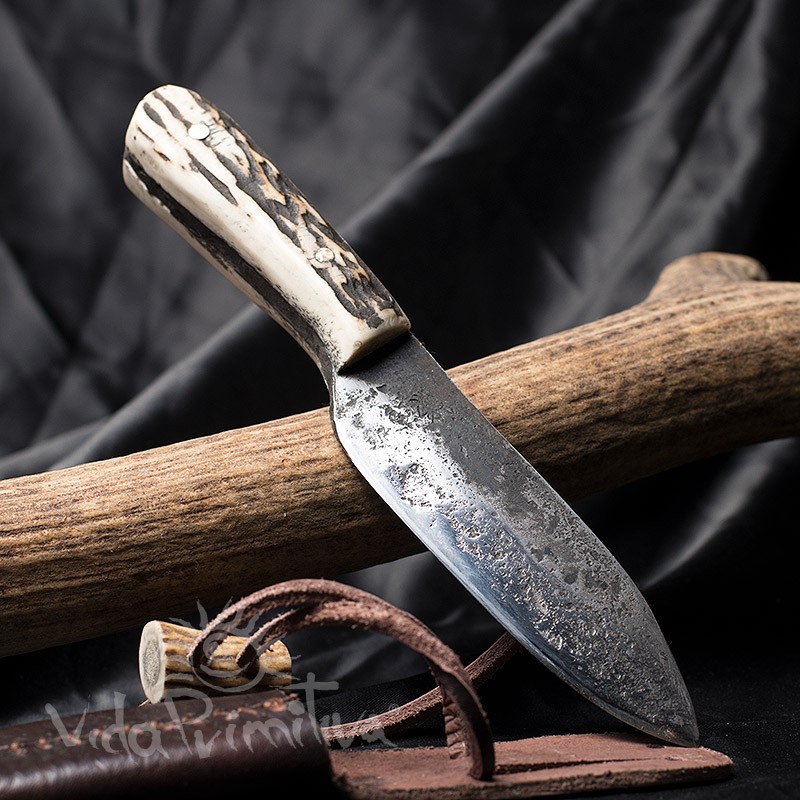  
"Iron Age" Knife
This knife is perfect for historical reenactments of antiquity.
Its great advantage is lightness, it does not bother hanging on the belt and it fits perfectly in a small bag.
In nature it is perfect for gathering wild berries and mushrooms.


"Iron Age" Knife
Total length 20 cm.
Sheet measurements:

Length aprox: 11 cm.
Maximum width 35 mm.with a thickness of approx. 5 mm.
The length of the handle between 90 mm.
Handle thickness  aprox. 22 mm. maximum width  26 mm.
It carries the characteristic sheath that we usually make to all our knives molded and sewn by hand. It does not have slots to pass the belt like modern covers, a leather strap is used to tie it to the belt or hang it from the backpack or bag.
Made in our forge and hammer forged. With carbon steel similar to that used in ancient times. The blade is modeled from a flat bar  without using modern cutting tools.
These knives are relatively abundant on the peninsula during the Iron Age.
This is a handmade craft product and may differ slightly from the picture.

All our knife blades are branded VP. If it doesn't say VP, we didn't make it.
Our brand is a guarantee of handmade work with techniques from the past.
You can learn more about our knives at www.lafraguaibera.com
If you want a custom knife or with special measures, please contact us.