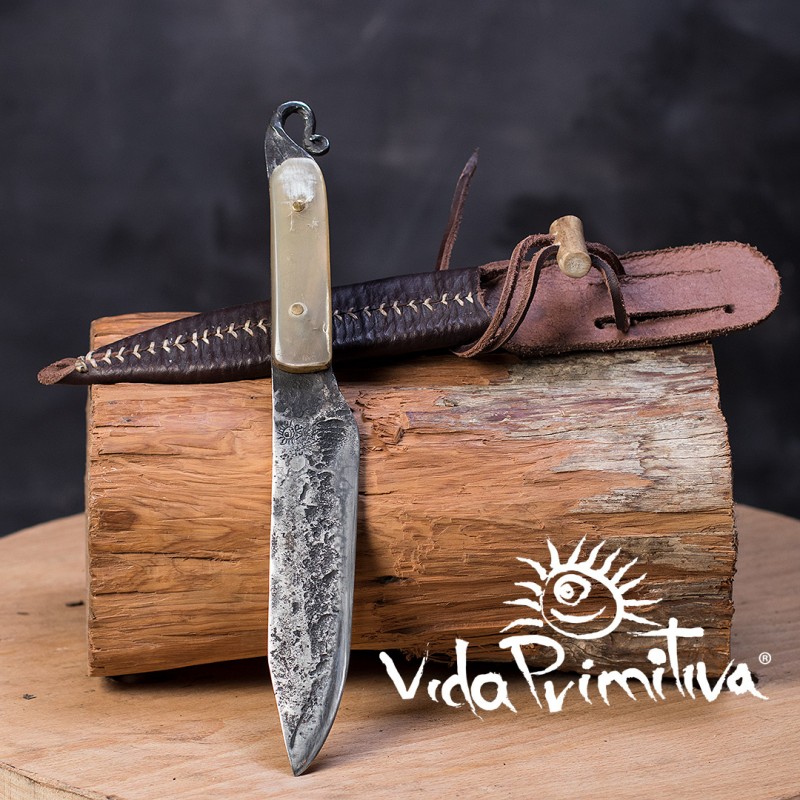  
Knife with ox horn scales
Forge knife "Iron Age" with ox horn scales, it is a strong and weighty knife, it is a comfortable knife for activities in nature and for use in recreation. It has a characteristic rat-shaped finish.
Forging knife "Iron Age"
Total length: 27 cm.
Blade length approx: 15.5 cm. blade thickness on the spine 0.5 cm approx.
Ox horn handle approx. 8.5 cm. the scales and 12 cm. in total approx.
Handle thickness 2 cm. approx.
Made in our forge and forged by blow,with carbon steel similar to that used in ancient times.
The blade is modeled from a plate without using modern cutting tools.
Ox horn handles and brass pins.
With a leather sheath sewn by hand and modeled to adapt to the knife, it can be worn on the belt or strapped across the body. Adjustment using a horn button.
Perfect for re-enactments from the Iron Age to medieval times.
All our knife blades are branded VP. If it doesn't say VP, we didn't make it. 
Our brand is a guarantee of handmade work with techniques from the past.
You can learn more about our knives at www.lafraguaibera.com
If you want a custom knife or with special measures, please contact us.